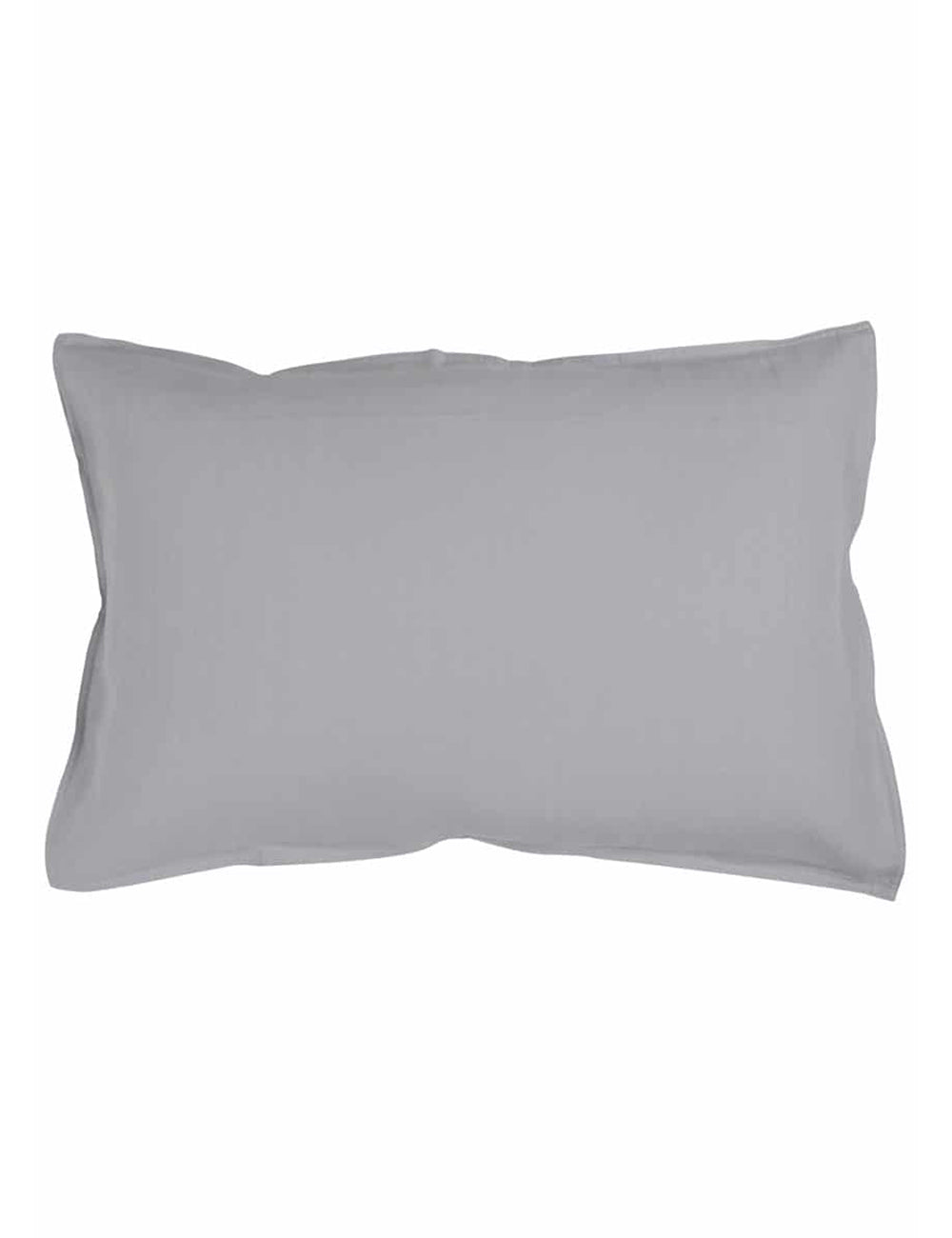 STANDARD PILLOWCASE SET | CEMENT
Description
Our Linen
Sustainability
Certifications
It's proven that sleeping on linen helps you to fall asleep faster, sleep deeper and wake up in a better mood (all depending on whether you have toddlers or not).
Our standard pillowcases are sized at 50cm x 75cm, and our king pillowcases are sized at 50cm x 95cm for the Super King bedframe. Both sizes feature a twin needled hem and envelope closure.
Our pillowcases are made using our regular-weight linen at 165gsm, which ensures durability and longevity.
We've curated an extensive range of twenty four seasonal colours which makes it easy for you to create - or change – your sleep haven's mood.
Woven from the world's oldest luxury fibre, 100% all natural linen, grown in the Netherlands and woven exclusively for IN THE SAC.
Our linen is developed by us from seed to fibre, for a result that is perfectly weighted, beautiful quality, luxuriously soft linen.
IN THE SAC is committed to creating considered products, with positive impact on people and planet.
Purposeful design for longevity, fair trade, environmentally friendly practice and responsible sourcing and manufacturing are at the forefront of our design process, along with our trademark high quality and attention to detail.
Natural linen fibres are 100% biodegradable and are less wasteful than some other fibres, using the whole of the flax plant during production.
GOTS
IN THE SAC is proud to be certified with the Global Organic Textile Standard (GOTS), the leading standard for the processing of textile goods using organic fibres, providing international common understanding of environmentally friendly production systems and social accountability in the organic textile sector. 
GOTS was founded with the aim to harmonise the various different certifications in organic textiles, as well as to develop a set of global standards and recognised requirements.
European Flax®
IN THE SAC designs exclusively with European Flax® certified Linen. The European Flax® label certifies traceability at every step of processing, produced exclusively in France, Belgium, or the Netherlands.
The EUROPEAN FLAX® Charter, signed by our Flax producers, guarantees linen cultivation that respects the environment and commits to zero irrigation, zero GMO, and zero waste. The process of fibre extraction is 100% mechanical, meaning zero chemicals are used during the process. The Charter also recognises that all farming and milling is in compliance with the International Labour Organization's (ILO) framework. The ILO is committed to social justice and internationally recognised human and labour rights.
OEKO-TEX 100
IN THE SAC linens are credited with theOEKO-TEX® 100certification, ensuring no harmful or toxic chemicals have been used during any part of the production process. From threads to buttons - each product component has been tested for harmful substances and theOEKO-TEX® 100certification confirms that the piece therefore is harmless to human health.
Shipping
Worldwide Shipping
We offer fast worldwide shipping via our delivery partners, DHL, Australia Post and Direct Freight. Shipping is calculated at the cart.
Order tracking
We'll be in touch with regular order tracking updates. You can also check yoru order status from within your account.
Get in touch
Have a question? Get in touch with our friendly team via email at info@inthesac.com.au, or visit us in store.
Care
Your linen can be as fuss free as you wish. Washing is as much about revitalising the linen yarns, as it is about keeping them clean.
Gentle machine wash as normal and let gravity (and the sun) do the drying work for you by laying them flat or hang them over a line straight from the machine.
Your linen can be tumble dried on a low heat, and is dry-cleanable. We never iron our linen sheets as we love their natural feel and appearance after a wash, but if you want to, the linen setting on your iron will do the job.
We have produced our pure linen with pleasure in mind, not hard work. By caring for them in this simple manner they have been designed to bring you hours of laid-back luxury in bed.
PURE LINEN
At IN THE SAC, our pure linen quality is what we're most proud of. We carefully plan and control every step of the process, from seed to fibre. This allows us to produce a truly soft feel and a heavier weighted linen that is exclusive to us. We don't need to stonewash our linen sheets, nor tell you they will soften with use and constant washing. Our linen quality starts in the field, not in the factory; by selecting the finest quality flax nature can grow.